Next:
It's too expensive
Up:
Five_Myths
Previous:
It's not safe
Power reactors produce about twenty tonnes of used fuel per gigawatt year (GWe-year) of electricity. Spent fuel is dangerously radiotoxic for 300,000 years, an apparently intractable problem.
Examining the composition of used fuel leads to a different conclusion. A tonne of used fuel consists of about 50 kilograms of fission products and 950 kilograms of transuranic actinides (uranium and metals with greater atomic number).
Fission products are less radiotoxic than uranium in nature after 300 years, not 300,000 years. Custody of fission products separated from actinides would be much simpler than for used fuel taken as a whole. After ten years' storage, two isotopes, 90Sr and 137Cs, constitute more than 99% of radiotoxicity, but less than 4% of the mass of fission products. Isotope separation is hideously expensive, but chemical separation is easy, and elemental strontium and caesium, the only elements requiring 300 years' custody, constitute 9.2% of the mass of fission products - five kilograms per tonne of used fuel, or about 90 kilograms per GWe-year. 45 kilograms per tonne, or 900 kilograms per GWe-year, are low-level waste, less radiotoxic than uranium in nature, and much simpler custody is adequate.
Figure 3: Radiotoxicity of fission products (FP) and transuranics (TRU). From Återanvändning av långlivat avfall och sluten bränslecykel möjlig i nya reaktortyper, Nucleus (April 2007), page 15.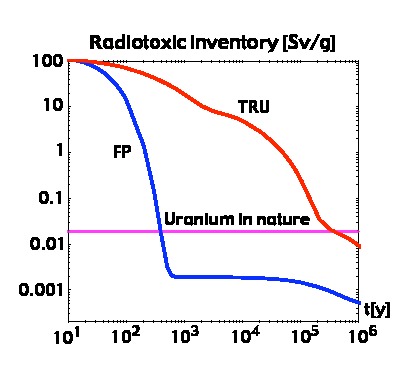 The PUREX (Plutonium-URanium EXtraction) process separates chemically pure but isotopically mixed plutonium and uranium from used fuel, leaving other actinides with the fission products. It therefore does not reduce the duration of custody. Process fluids are good moderators that efficiently adjust the average speed of neutrons into the range that causes fission. The concentration of used fuel must be kept very low to avoid criticality accidents. A facility to process hundreds of tonnes per year occupies several thousand hectares, has several kilometers of pipes and thousands of reaction vessels, and is very expensive.
An alternative method to separate fission products from actinides, based upon well-known metal electrorefining methods, was developed as part of the IFR project. There is no moderator in the device, so larger amounts can be processed in a much smaller space. The electrorefiner consists of an anode, composed of used fuel, and a cathode, immersed in an electrolyte of molten lithium chloride and potassium chloride salts.
Because of different chemical potentials, when a carefully controlled voltage is applied, actinides and active fission products such as strontium and caesium diffuse from the anode into the electrolyte and are carried through it by the electric potential gradient. Nearly pure actinides deposit at the cathode. Active fission products remain in the electrolyte. Noble metals such as rhodium and palladium remain in the anode.
Fission products can be separated from the electrolyte by forcing it through zeolyte (similar to the active material of a water softener), thereby cleansing the electrolyte for further use. The zeolyte can be mixed with powdered glass, and sintered into an impervious insoluble ceramic, ideal for storage, called sodalite. The metals remaining in the anode basket are disposed separately. This leaves the actinides.
Actinides in used fuel consist mostly of uranium, but include significant amounts of plutonium and heavier transuranics. Odd-numbered isotopes of uranium and plutonium can be fuel in existing reactors, but even-numbered isotopes do not fission, and heavier transuranics do not fission efficiently in light-water reactors. About 30% of the original fuel can be converted to fission products and electricity, before the only slightly-smaller problem is right back where it started: A substance needing 300,000 years' custody.
``Nuclear waste,'' a substance of which the world is desperately eager to be rid, is effectively destroyed
If the average speed of neutrons is higher, as in IFR, all transuranic actinides are fissionable or can be transmuted to fissionable isotopes by neutron absorption; they are fuel, not waste. Rather than 20 tonnes of intractable waste per GWe-year, a fast-neutron reactor produces one tonne of substances that require much simpler custody. Used fuel, the substance currently called ``nuclear waste,'' of which the world is desperately eager to be rid, is effectively destroyed - and nothing else other than hideously expensive laboratory-scale toys can do it.
Fast-spectrum metal-cooled reactors should be built instead of light-water reactors because of their demonstrated safety, and their ability to destroy nuclear waste.
Fast-spectrum metal-cooled reactors should be built instead of light-water reactors because of their demonstrated safety, and their ability to destroy nuclear waste
The first goal of the IFR project was safety. The second was to mitigate the waste ``problem.''
---

Next: It's too expensive Up: Five_Myths Previous: It's not safe Van Snyder 2017-03-27