Van Snyder's Web about Nuclear Power
Why Nuclear Power?
My papers My idea for a combined energy center
We will need liquid hydrocarbon fuels indefinitely for airplanes, probably for ships, heavy construction equipment, farm equipment, and heavy freight too large for trains, and maybe for long-distance auto travel. In CO2 extraction from seawater using bipolar membrane electrodialysis (Energy & Environmental Science 2012, DOI 10.1039/c2ee03393c), Eisamen et al described the PARC BPMED process to extract 52% of dissolved CO2 from seawater at an energy cost of 242 kJ/mol (about 1.5 MWh/T). Hydrocarbon fuels can be made using CO2, hydrogen extracted from seawater using the copper-chlorine thermochemical process at an energy cost of 532 kJ/mol (about 0.079 MWh/T), and the Fischer-Tropsch process to combine them. PARC estimates this can be done for $3.00/gallon. The energy density of automotive gasoline is about 12.5 MWh/T. Burning hydrocarbon fuels made from seawater would be a net negative CO2 transfer to the atmosphere and oceans. CO2 that results from burning the fuels will go into the atmosphere, and eventually back into the oceans, but surely some will be trapped in plants and soils.
Uranium can be extracted from seawater, but this will not be necessary for a very long time. The United States has 80,000 tonnes of spent fuel and 900,000 tonnes of depleted uranium. This is enough to fuel an all-nuclear all-electric American energy economy for 575 years -- longer than that to the extent solar and wind contribute. The long term attraction is that it is essentially limitless. Uranium salts are water soluble, and are continuously entering the oceans from the bottom and in rivers. The concentration of uranium in seawater and ocean-bottom rocks is in equilibrium. As uranium is taken from seawater, more enters from rocks. There is enough uranium already in the oceans to provide all the energy humanity currently uses for a million years.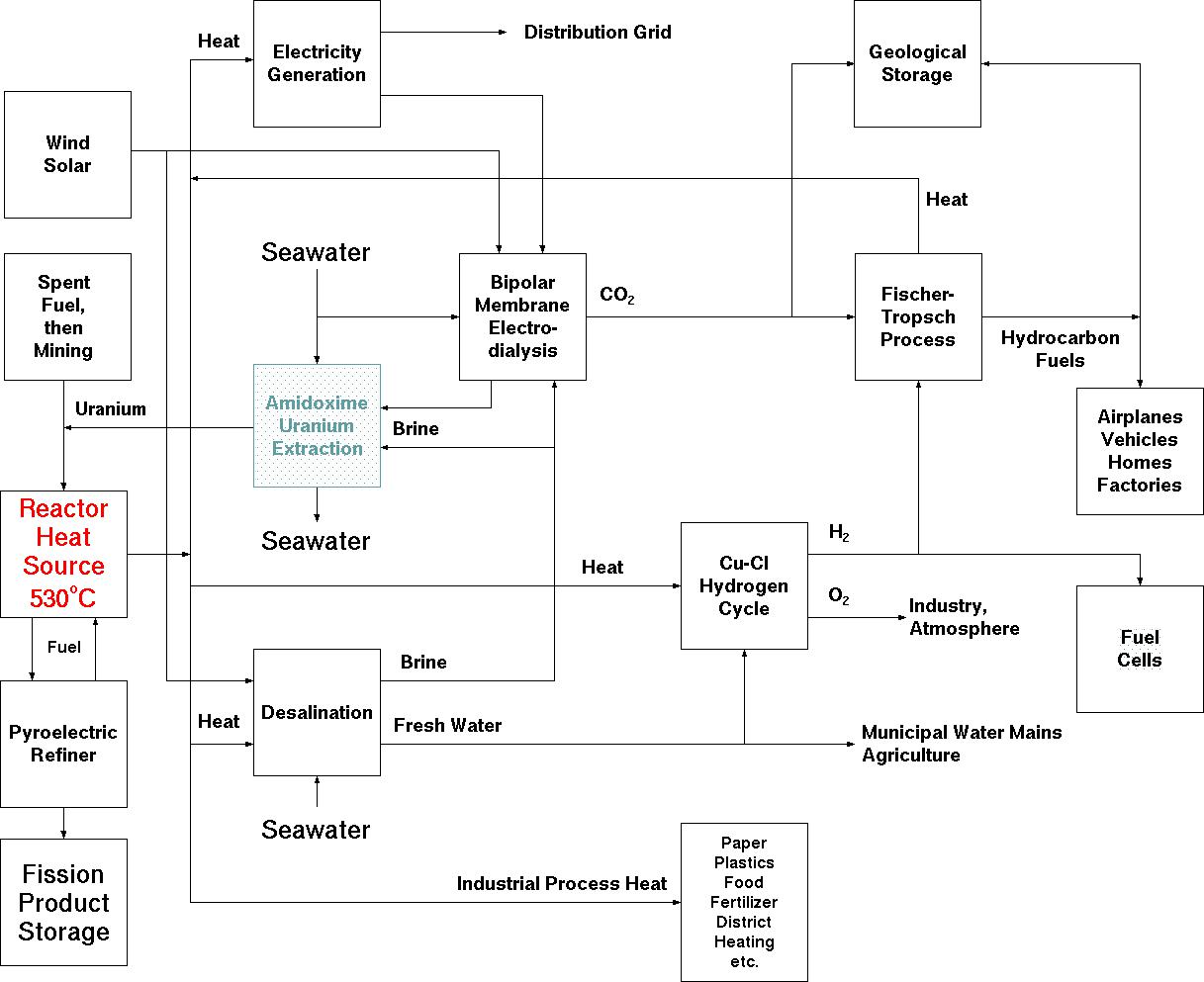 External links
Nuclear power
100% Renewable can't work
B.P. Heard, B.W. Brook, T.M.L. Wigley, C.J.A. Bradshaw, Burden of proof: A comprehensive review of the feasibility of 100% renewable-electricity systems, Renewable and Sustainable Energy Reviews 76, Elsevier (2017), 1122-1133.
"While many modelled scenarios have been published claiming to show that a 100% renewable electricity system [that excludes nuclear power] is achievable, there is no empirical or historical evidence that demonstrates that such systems are in fact feasible."
Publisher's link: http://www.sciencedirect.com/science/article/pii/S1364032117304495 (requests a fee)
Free link: http://www.thesciencecouncil.com/images/pdfs/Burden%20of%20Proof.pdf

Deep decarbonization is expensive
Jesse D. Jenkins and Samuel Thernstrom, Deep Decarbonization of the Electric Power Sector: Insights from Recent Literature (March 2017).
Deep decarbonization without nuclear power will be extremely expensive (and Heard et al say it's impossible).

Shutting down reactors is stupid


Sufficient storage is impossible


South Australian blackout
In Why I waited to comment on the SA blackout: reflections on preliminary findings, Ben Heard explains that the entire grid in the State of South Australia failed after a windstorm because of a lack of inertia (i.e., frequency stability). There was insufficient frequency stability, so more and more providers had to shed load to prevent damage to their systems. What provides inertia on an electricity distribution grid? Heavy synchronous rotating generators -- coal, gas, nuclear, hydro. The relatively clean, modern, 485 MWe combined-cycle gas generator in Adelaide was offline because its economics had been subsidized away to pay for wind from the public purse.
Comments? Questions? Spot any mistakes?
van dot snyder at sbcglobal dot net.