Van Snyder's Web about Nuclear Power
Nothing else can provide all the energy we currently use. See the papers linked below in Why Renewable Sources Aren't Enough.
Even if the problems noted by Heard et al can be overcome, providing firm power from dispersed and variable sources will be extremely expensive. See the papers by Jenkins and Thernstrom, Mearns, Shaner et al, Rogers, and Temple, and my analysis for California.
Decommissioning nuclear reactors undercuts carbon emission reductions. The next doubling of solar capacity will not make up for carbon emission reductions foregone by the recent closure of five reactors. See the papers by Roth and Jaramillo and Roberts.
Nuclear power is the safest-ever way to make electricity, by an extremely wide margin. More people have been killed by Ted Kennedy's car than by all American and other OECD reactors combined.
The right kind of nuclear reactor, with the right kind of used-fuel reprocessing, can effectively destroy the substance we currently call "nuclear waste," and nothing else can (see Plentiful Energy described below).
Read the papers by Hannum, Marsh, and Stanford and Baurac. See the references in my long paper about energy and nuclear power.
Read the linked papers on safety below. Read the UNSCEAR reports about Chernobyl and Fukushima.

Here's a graphic from the Paul Scherrer Institut (bigger means safer):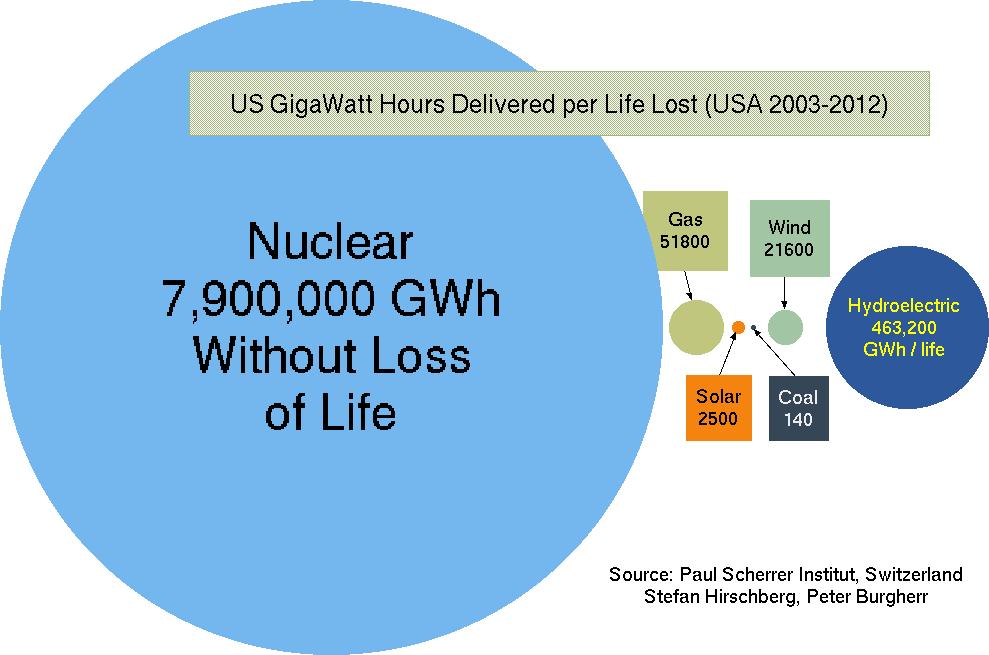 The following table is from Stefan Hirschberg, Paul Scherrer Institut, A Comparative Analysis of Accident Risks in Fossil, Hydro, and Nuclear Energy Chains, Human and Ecological Risk Assessment 14(5) 947-973 (October 2008):
Severe Accidents Causing at Least 5 immediate fatalities, 1969-2000
OECD
non-OECD
Sector
Accidents
Fatalities
Accidents
Fatalities
Coal
75
2,259
1146
22,848
Oil
165
3,713
232
16,505
Natural Gas
90
1,043
45
1,000
LPG
59
1,905
46
2,016
Hydro
1
14
10
29,924
Nuclear
0
0
1
31
The Chernobyl UNSCEAR report cites 28 deaths that eventually resulted from acute radiation syndrome, two from falling debris, and one from a heart attack. I count the last three as normal industrial accidents, not caused by the "nuclear" part of the Chernobyl nuclear power plant.
Hirschberg cites other sources that speculate there might be up to 5,000 delayed or latent cancer deaths from radiation during the next seventy years in Ukraine, Belarus, and Russia, and as many as 30,000 in the northern hemisphere. Most such speculations are based upon the "linear no-threshold" assumption for the relationship between radiation exposure and cancer risk. There are no data to support that assumption, and abundant evidence it is fundamentally flawed. See A-Bombs, Bears and Corrupted Science: Reassessing Radiation Safety by Edward Calabrese and Mikko Paunio. UNSCEAR speculated "4,000 future deaths from cancer" in its initial report, but the 2008 revised Chernobyl report replaced it with "undetectable future deaths."
More recently, from Stefan Hirschberg, Laboratory for Energy Systems Analysis, Paul Scherrer Institut, Consequences of Accidents in the Energy Sector, OECD NEA International Workshop, Paris, 20 January 2016:
Severe Accidents With at Least 5 fatalities (1970-2008)
OECD except EU 27
EU 27
non-OECD
Sector
Accidents
Fatalities
Accidents
Fatalities
Accidents
Fatalities
Coal
88
2,313
45
989
1440
25,821
Oil
179
3,383
64
1236
351
19,376
Natural Gas
109
1,257
37
336
78
1,554
LPG
60
1,880
22
571
69
2,796
Hydro
1
14
1
116
12
30,007
Nuclear
0
0
0
0
1
31
In the coal sector, most accidents are mining accidents. In the oil and gas sectors, most accidents are transportation accidents. The Banqiao and Shimantan dam failures in 1975 together caused 26,000 fatalities. EU 27 hydro deaths were caused by the failure of the Belci dam in Romania in 1991.

The tsunami resulting from the 2011 Tōhoku earthquake destroyed the Fukushima reactors. No immediate or delayed fatalities have been shown to have resulted from exposure to radiation or radioactive materials, but the Japanese Ministry of Health, Labor and Welfare compensated the family of a worker in Fukushima Plant No. 1 who died from lung cancer in 2018.

Nuclear "waste" is actually valuable 95%-unused fuel. The unused fuel part needs custody for 300,000 years, but a better idea is to turn it into energy and fission products. Fission products are produced at the rate of one tonne per gigawatt-electric year (8,766,000,000 kWh). Significant radiotoxicity is produced by only four isotopes, summarized in the following table and figure.

Contributions of Fission Products to Radiotoxicity after ten years
Radiotoxicity
Element
kg/GWe-yr
Isotope
Half life
kg/GWe-yr
Custody
55.95%
strontium
21.75
90Sr
28.79 y
11.79
300 y
43.44%
caesium
70.52
137Cs
30.04 y
27.52
300 y
0.401%
europium
4.473
154Eu
8.593 y
0.56
100 y
0.033%
cadmium
3.795
113mCd
14.10 y
0.00529
30 y
0.076%
other radioactive
428.2
10 y
0.0%
not radioactive
470.8
none
See the links to detailed reports of used LWR fuel

Detailed radiotoxicity curves were computed from radioactivity of fission products having half lives longer than five years.

There are other detailed reports below.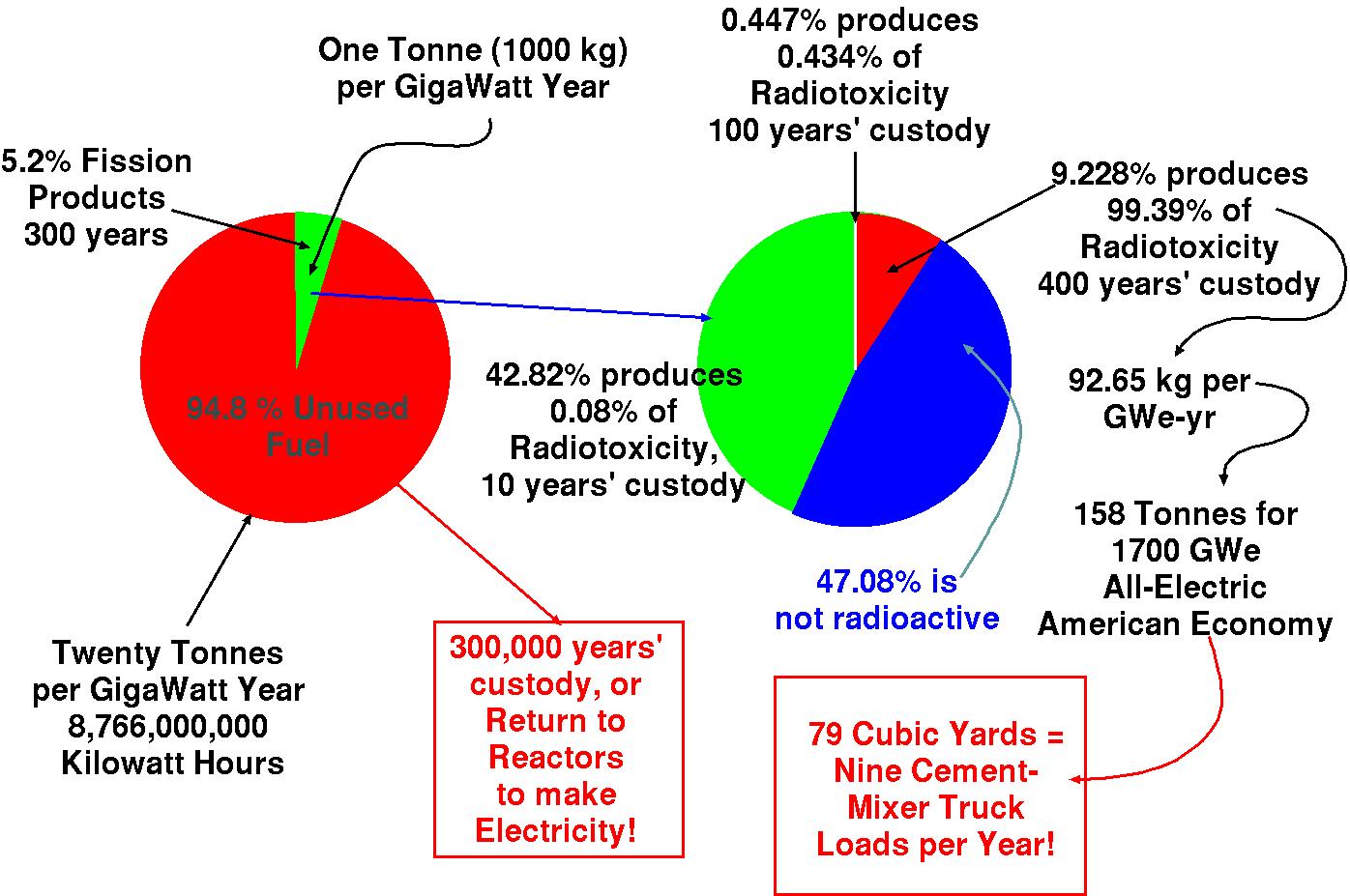 The only completely closed system that produces no long-lived transuranics is a fast-neutron reactor with fuel reprocessing, such as described by Till and Chang.
Spent fuel has a value of $2,385,309.88 per tonne (52.185 MWe-yr). Fuel processing ought to be a profit center, not a cost center.
We will need liquid hydrocarbon fuels indefinitely for airplanes, probably for ships, heavy construction equipment, farm equipment, and heavy freight too large for trains, and maybe for long-distance auto travel.
Fortunately, liquid hydrocarbon fuels can be made from CO2 plus hydrogen using the Fischer-Tropsch process.
Hydrogen can be extracted from seawater using the copper-chlorine thermochemical process at an energy cost of 532 kJ/mol (about 0.079 MWh/T). One step of the process needs heat at about 1000o Fahrenheit (530o Celsius), almost exactly the core temperature of a nuclear power reactor.
The concentration of CO2 in seawater is 140 times greater than in the atmosphere. Removing CO2 from seawater exploits the oceans' enormous surface area to remove it indirectly from the atmosphere.
In CO2 extraction from seawater using bipolar membrane electrodialysis (Energy & Environmental Science 2012, 5 7346 DOI:10.1039/c2ee03393c), Eisamen et al described the PARC BPMED process to extract 52% of dissolved CO2 from seawater at an energy cost of 242 kJ/mol (about 1.5 MWh/T). There's an abstract here and my copy here.
PARC estimates that liquid hydrocarbon fuels can be made from seawater plus energy using the BPMED, copper-chlorine, and Fischer-Tropsch processes, for $3.00/gallon. The energy density of automotive gasoline is about 12.5 MWh/T.
The US Navy is developing a method using these processes to make jet fuel aboard nuclear aircraft carriers.
Burning hydrocarbon fuels made from seawater would be a net negative CO2 transfer to the atmosphere and oceans. CO2 that results from burning the fuels would go into the atmosphere, and eventually back into the oceans, but surely some would be trapped in plants and soils. CO2 extracted from seawater could also be sequestered in geologic storage.
The United States has 90,000 tonnes of spent fuel and 900,000 tonnes of depleted uranium. This is enough to fuel an all-nuclear all-electric 1,700 GWe American energy economy for 575 years — longer than that to the extent solar, wind, hydro, geothermal, and other minor players contribute. The long term attraction is that it is essentially limitless. Uranium salts are water soluble, and are continuously entering the oceans from the bottom and in rivers. The concentration of uranium in seawater and ocean-bottom rocks is in equilibrium. As uranium is taken from seawater, more enters from rocks. There is enough uranium already in the oceans to provide all the energy humanity currently uses for a million years. Uranium can be extracted from seawater, but this will not be necessary for a very long time.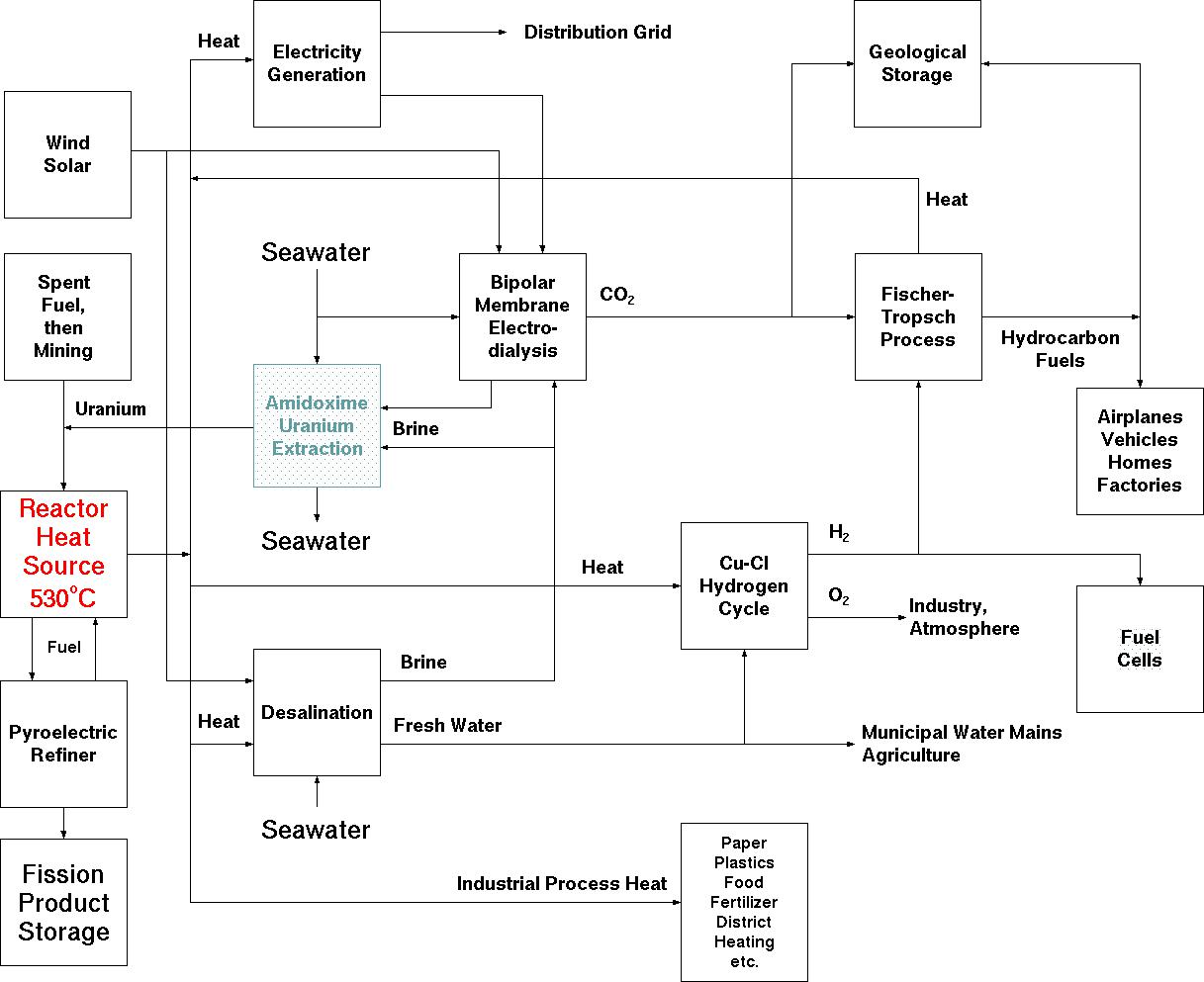 William H. Hannum, Gerald E. Marsh, George S. Stanford Smarter Use of Nuclear Waste Scientific American (December 2005).
This is the place to start if you're entirely new to the topic of nuclear power in general, and especially if you want to know what to do about nuclear waste.

Charles E. Till and Yoon Il Chang, Plentiful Energy: The Story of the Integral Fast Reactor. (2011) ISBN 978-1466384606. This is available from the Science Council for Global Initiatives, or my copy, for which Dr. Yoon Il Chang has generously given me permission to provide a link.

Plentiful Energy is essential reading if you want a deeper understanding of the way a fast-neutron reactor creates more fuel than it consumes, why the Argonne design is inherently safe (and read David Baurac's article), how it works with pyroelectric refining to destroy nuclear waste, and why nuclear power, especially using this process, is irrelevant to weapons proliferation.

Tom Blees, Prescription for the Planet: The painless remedy for our energy & environmental crises (2008) ISBN 1-4196-5582-5 ISBN-13 9781419655821. This is available from The Science Council for Global Initiatives, or my copy, for which Tom Blees has generously given me permission to provide a link.

Leonard J. Koch, the project leader for EBR-II, wrote a 90-page book entitled Experimental Breeder Reactor II (EBR-II). It was originally published online by RED, Inc. Communications There's also a 240-page paperback available from Amazon (and another Amazon listing here).

I have a copy of PRISM: A Competitive Small Modular Sodium-Cooled Reactor, Nuclear Technology 178 (2012). I don't remember where I found it. The place where it was posted might have violated the Taylor & Francis copyright.

The web for The Science Council for Global Initiatives has a number of links for further reading; it's frequently updated.

There is a Short 7-page story about EBR-II — Experimental Breeder Reactor II — the prototype for IFR, from 2004, by Catherine Westfall, the Argonne National Laboratory historian, also online from Argonne National Laboratory

There is a short video about EBR-II at https://vimeo.com/35261457. It's mostly about the decommissioning, as told by three workers.

In The Integral Fast Reactor, Steve Kirsch presents his analysis why nothing else will work. Several additional relevant links are included.

Patrick Moore, an early member of Greenpeace Canada and Greenpeace International, in an op-ed and interview in Washington Post (Sunday April 16, 2006) entitled Going Nuclear wrote:

Nuclear power is "the energy source that can save our planet from another possible disaster: catastrophic climate change.... Nuclear energy is the only large-scale, cost-effective energy source that can reduce these emissions [of CO2] while continuing to satisfy a growing demand for power...."
[my emphasis]

The World Nuclear Association has a page about Fast Neutron Reactors. It describes history, current development, and future plans, in Western Europe, Russia, Japan, India, China, South Korea, and the United States. Their Information Library home page has links to many other topics.
Why renewables can't save the planet, a TED lecture by Michael Shellenberger

"As renewables can't save the planet, should we allow them to destroy the environment?"

100% Renewable electricity system can't work
B.P. Heard, B.W. Brook, T.M.L. Wigley, C.J.A. Bradshaw, Burden of proof: A comprehensive review of the feasibility of 100% renewable-electricity systems, Renewable and Sustainable Energy Reviews 76, Elsevier (2017), 1122-1133.

"While many modelled scenarios have been published claiming to show that a 100% renewable electricity system is achievable, there is no empirical or historical evidence that demonstrates that such systems are in fact feasible."

Publisher's link: http://www.sciencedirect.com/science/article/pii/S1364032117304495 (requests a fee)
Free link: http://www.thesciencecouncil.com/images/pdfs/Burden%20of%20Proof.pdf
My copy and my copy of supplementary material.

"New Energy Economy": An Exercise in Magical Thinking (or my copy of the PDF), Mark P. Mills, senior fellow at the Manhattan Institute:

"This paper highlights the physics of energy to illustrate why there is no possibility that the world is undergoing — or can undergo — a near-term transition to a 'new energy economy.'"

Ross Konigstein and David Fork reached a similar conclusion in What It Would Really Take to Reverse Climate Change, IEEE Spectrum (18 November 2014).

"Trying to combat climate change exclusively with today's renewable energy technologies simply won't work...."

In ROADMAP TO NOWHERE — The Myth of Powering the Nation With Renewable Energy, Mike Conley and Tim Maloney analyzed 100% clean and renewable wind, water, and sunlight (WWS) all-sector energy roadmaps for the 50 United States by Mark Z. Jacobson et al, which originally appeared in Energy & Environmental Science, a publication of the Royal Society of Chemistry, and concluded it's — A Road to Nowhere.

"Renewables have captured the public's imagination, but can they actually be scaled up to power the entire nation?" The authors' conclusion was "no."

Conley and Maloney published a summary in EnergyPost with the same title

In Evaluation of a proposal for reliable low-cost grid power with 100% wind, water, and solar, Clack et al analyzed the same Jacobson et al paper, along with another one by Jacobson and other authors, entitled Low-cost solution to the grid reliability problem with 100% penetration of intermittent wind, water, and solar for all purposes. From the Clack et al abstract:

"In this paper, we evaluate this study and find significant shortcomings in the analysis. In particular, we point out that this work used invalid modeling tools, contained modeling errors, and made implausible and inadequately supported assumptions. Policy makers should treat with caution any visions of a rapid, reliable, and low-cost transition to entire energy systems that rely almost exclusively on wind, solar, and hydroelectric power."

Frank Shu, Processor of Physics at UC San Diego, calculated that land-based wind cannot provide more than 1.8 TWe, about 15% of current worldwide total energy demand (or see my copy).

Sufficient storage is impossible


Euan Mearns, Grid-Scale Storage of Renewable Energy: The Impossible Dream, Energy Matters (November 20, 2017).
UK had about 26 GWe installed peak label capacity of wind and solar in 2016, which produced 4.6 GWe-yr in 2016 — a capacity factor of 17.7%. From the abstract of the article:

"The utopian ambition for variable renewable energy is to convert it into uniform firm capacity using energy storage. Here we present an analysis of actual UK wind and solar generation for the whole of 2016 at 30 minute resolution and calculate the grid-scale storage requirement. In order to deliver 4.6 GW uniform and firm RE [renewable energy] supply throughout the year, from 26 GW of installed capacity, requires 1.8 TWh of storage. We show that this is both thermodynamically and economically implausible to implement with current technology."

There have been quibbles with Mearns's conclusion, arguing that the need for storage can be eliminated by excess solar+wind capacity, and dumping (rather than storing) the excess when it's not needed. Roger Andrews addresses this in The quest for 100% renewables — can curtailment replace storage?

"Can storage requirements be reduced to manageable levels by producing more renewable energy than is needed to fill demand and curtailing the surpluses? The answer is no. Curtailment does indeed reduce storage requirements, but not to manageable levels. This would appear to eliminate the possibility of developing a grid powered 100% by intermittent renewables. Backup generation will always be needed to fill demand when the sun doesn't shine and the wind doesn't blow."

No matter how much excess solar capacity is built, the sun still doesn't shine at all at night, and not much in bad weather.

Matthew R. Shaner, Steven J. Davis, Nathan S. Lewis, and Ken Caldeira calculated in Geophysical constraints on the reliability of solar and wind power in the United States Energy & Environmental Science (Issue 4, 2018) that the storage requirement for the United States might be twice as large as Mearns calculated, if current standards for reliability (99.97%) are desired.

Norman Rogers reached a similar conclusion in Is 100 Percent Renewable Energy Possible? (May 25, 2018). Using data from Texas, he calculated that storage capacity of 400 watt hours is needed per average watt of wind and solar capacity.

James Temple reached a more optimistic but still impossible conclusion in The $2.5 trillion reason we can't rely on batteries to clean up the grid, MIT Technology Review (July 27, 2018), by using the unrealistic assumption that only twelve hours' storage would be needed.

In The Cost of Net Zero Electrification of the U.S.A., Ken Gregory used hourly data from all of the United States for 2019 and 2020 to calculate a cost over $400 trillion. The article over-estimates the round-trip efficienty of batteries, and appears not to include the effect of the lifetime of batteries.

My back-of-the-envelope calculation concluded that a 1,700 GWe all-renewable American energy system would require spending 3.95 to 8.1 times US 2016 GDP per year for batteries alone. This is not economically viable, even if storage costs decrease by a factor of ten.

The storage situation in California is much worse than Mearns and Rogers calculated.

Because renewable sources are dispersed, variable, and unreliable, they need 100% backup, 100% of the time. That doesn't mean backup is in use all the time; it has to be available all the time because renewable sources might fall short at any time. Heavy synchronous rotating generators — coal, gas, hydro, nuclear — are spinning all the time, not generating electricity, wearing out their bearings, while their economics are subidized away. Solar and wind generators displace only the fuel cost of conventional generators, which still need to pay their mortgages.

Rent seekers looking to cash in on subsidies have traditionally foisted the responsibility for the ready reserve required by many states' Public Utilities Commissions onto those traditional sources, which greenies hope to eliminate. Solar and wind providers should be required to pay full freight for ready reserve, and for the additional transmission lines, transformers, switches, and other infrastructure their schemes would require.

In April 1815, the 13,000 foot volcano Tambora on the island of Sumbawa, in the Lesser Sunda Islands erupted, ejecting 160-180 cubic kilometers of material into the atmosphere. Global temperatures were reduced for more than 18 months. 1816 was called the Year Without a Summer. The next time that happens, no amount of storage can provide enough power even to keep hospitals and politicians' homes lit.

There have been several similar but less intense eruptions since then, the most notable being Krakatoa on August 26-27, 1883, which caused a five-year temperature drop of 1.2 degrees Celsius, and Pinatubo on June 12-15, 1991, which caused a five-year temperature drop of 0.5 degrees Celsius.
In Deep Decarbonization of the Electric Power Sector: Insights from Recent Literature (March 2017), Jesse D. Jenkins and Samuel Thernstrom concluded that deep decarbonization without nuclear power will be extremely expensive (and Heard et al say it's impossible).
Shutting down reactors is stupid
South Australian blackout
In Why I waited to comment on the SA blackout: reflections on preliminary findings, Ben Heard explains that the entire grid in the State of South Australia failed after a windstorm because of a lack of inertia (i.e., frequency stability). There was insufficient frequency stability, so more and more providers had to shed load to prevent damage to their systems. What provides inertia on an electricity distribution grid? Heavy synchronous rotating generators — coal, gas, nuclear, hydro. The relatively clean, modern, 485 MWe combined-cycle gas generator in Adelaide was offline because its economics had been subsidized away to pay for wind from the public purse.

Serious Materials Mroblems
There are serious materials problems for an all solar-and-wind energy system. Solar power plants need 1,600 tonnes of steel per MW of capacity. Windmills need 450 tonnes of steel and 900 cubic meters of concrete. Here's a graphic from Jim Conca: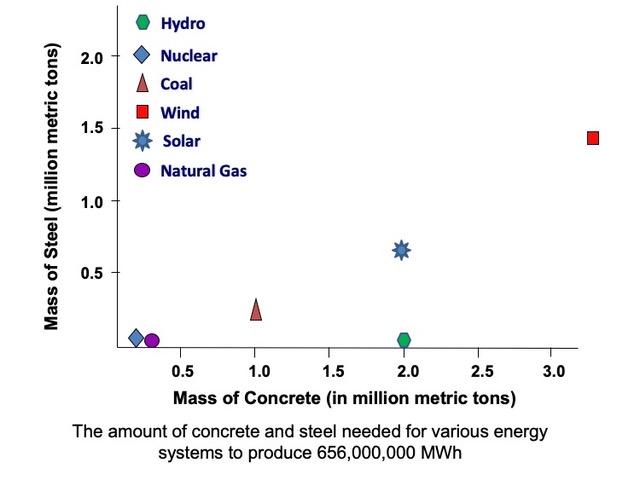 The United States cannot produce enough steel to produce an all solar-and-wind energy system in anything approaching a reasonable time frame. We would be dependent upon China, India, Japan, and Korea, where other customers would be competing. In contrast, a nuclear power plant needs about 50 tonnes of steel and 100 cubic meters of concrete per megawatt of capacity.

In 1969, the Sun belched out several trillion cubic miles of extremely hot plasma, at very high speed. When it reached the Earth, it caused an enormous electromagnetic pulse. Aurora were seen as far south as Cuba. Power distribution systems experienced significant damage. The American energy economy was smaller, and had essentially no solar panels or windmills. Damage was significant, but not catastrophic.

There was a much more severe event, called the Carrington Event, in 1859. Telegraph operators discovered their lines worked with batteries disconnected. It caused fires. A few operators were electrocuted.

The Sun does this every eleven years or so, and it hits the Earth every sixty years or so.

Solar panels are inherently vulnerable to EMP, either caused by a solar eruption or nefarious actors. The tiny wires connecting tiny individual solar cells would become tiny blown fuses. Windmills are also vulnerable, but would not be nearly as devastated. The millions of miles of additional wiring necessary to a nationwide "all renewable" distribution system would be a giant EMP antenna. It would transmit the damage into every level of the system, destroying wiring, solar panels, circuit breakers, switches, transformers, capacitors, and electronic equipment. It would take decades to rebuild and recover, at enormous expense.

Large-scale central generators are designed to use large currents; they would be invulnerable to EMP damage. Nuclear power plants, inside four-foot-thick concrete domes, laced with steel, or in underground "silos" as NuScale envisions, are inherently invulnerable to EMP. Small (50-350 MWe) modular nuclear power plants would each have enough capacity and reliability to power their communities independently from myriads of other small sources. They would be distributed throughout the country, and would require a very much smaller interconnect, which would be a very much smaller EMP antenna.

Comments? Questions? Spot any mistakes?
van dot snyder at sbcglobal dot net.
7 April 2022